SUmmer Registration INFO
Monday, Tuesday & Thursday Leagues

Monday & Thursday Leagues
Team-based registration. Most games are played out of McMaster University on both turf and grass fields. There will be occasional games played on city fields and two weeks played on private turf fields (due to charity events at McMaster). 
Important League Updates:
1) The bond is back! Each team will pay their $100 deposit to reserve their team's spot in the league. This will then become your team's bond. When your team pays your full team fee, attends the captains' meeting, attends each game with enough players, and reports scores and incidents on time, you will receive your bond back at the end of the season (usually at the year end party – hopefully something we can look forward to in August 2022).
2) At least one woman captain (if the team is solely captained by a woman then the requirement is met). You will require their email address to register your team. 
3) One additional Spirit Captain – Please watch this Prezi to understand the role of the spirit captain (it is not about being the person who is the most fun). You will require their email address to register your team.
4) Rule A gender ratio – ABBA – essentially means you play 2 points in a row with 4 women/3 open and vice versa (except the first point) and continue this throughout the game even after halftime. Check out the Rules

page

for more details.
5) Minimum 7 women designated players on roster – to ensure we do not promote over play and injury for women in the league we request that you recruit or include more women to play on your team. Every game will require half the game time be played by a majority of women. *see Rule A above.
6) 2022 Rules in effect. This Prezi describes the 2021 dramatic rule changes and not much has been added in the 2022 version. 
7) Captains' Meeting – all teams must have one captain (or substitute) and one spirit captain (or substitute) in attendance. Date TBD. Don't worry, you will hear from us with the details. 
Tuesday Hat League
ALL games will be played at McMaster University between 6:30pm-9:30pm on the track field B. This will provide more opportunity for subbing and for cheering (*cough* heckling) in adjacent games. This is an individual-based registration (hat league). Registration will include the new Flexible Payment options. Please check out our Equitable Access to Play page for more details. The chart below will help players decide which payment option best suits their current situation,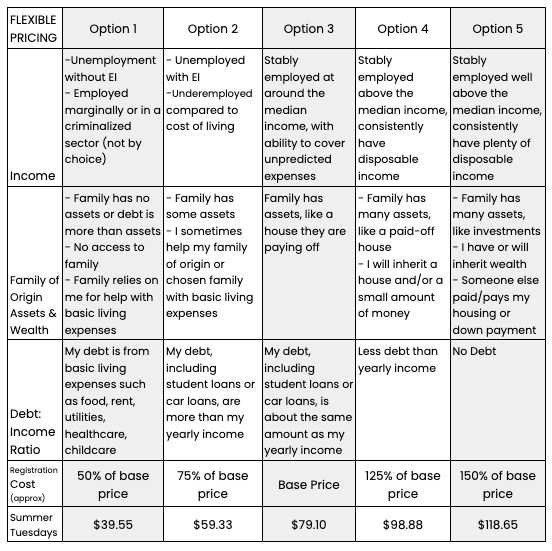 The format of the league will be determined based on the interest. We could go 7v7, 6v6 or 4v4. And the ratio is TBD. Please help spread the word to increase the participation from women. Players will be able to play with up to 3 other players as long as all requests are reciprocated. This will be a flexible, fun and friendly league night!
SU

MMER FIELDS
Currently we play most of our summer games out of McMaster University with a mix of grass and turf fields available for use. Paid parking is conveniently located right next to these fields. Street parking is available (about a 10-15 min walk to fields). Restrooms and water are available. Other west end fields we use regularly include Kay Drage Park (soccer fields at north end of park). This field offers free parking, but restrooms may not be available.
SUMMER FIELDS
Occasionally games will be played at our east end fields including Father Sean O'Sullivan Memorial Park & Garth Street Reservoir. FSOM has ample street parking available and a playground in close proximity to the field. Garth Street Reservoir is located on the top of a hill and parking (bottom of hill) is limited (carpool if possible). Both fields will likely not have restrooms available. 
SUMMER FIELDS
Occasionally games will be played at our new north end field, Eastwood Park. There is free parking available adjacent to the baseball fields. We are hoping to have access to the washrooms.